Saw this sticker on this car the other day.  (Yes, I take pictures while stopped at traffic lights!).  I didn't know that being a coroner was an elected office!  Who would have thunk it?
What would be their campaign slogans, assuming people would campaign to be the town coroner?  "Vote for Enice Prize.  We'll pick you up!"?  "Cast your vote for Mortimus Jones.  A tisket.  A tasket!  We'll pay for your casket!"?
And what are the qualifications to be a coroner? (real research follows):
Local law determines the responsibilities of the coroner. In some areas, coroners are called medical examiners and the person performing coroner duties are physicians within the community. There are some communities that do not require coroners to be physicians and the individual will direct others to perform the necessary medical tests.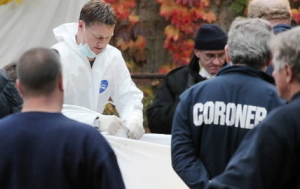 Coroners have many responsibilities including directing investigations in order to find cause of deaths that are violent, accidental, or unexplained. The coroner will direct the technologist and physicians who perform tests and autopsies. Additionally, a coroner may perform an autopsy or other test to determine the time and cause of death and complete the certificate of death.
If you're a believer in Jesus, aren't you glad He's taken away the sting of death, that to be absent from the body is to be present with the Lord (see 2 Corinthians 5:8).